Things to do in and around Altass
Woodburn Lodge B&B is ideally located the quiet location of Altass near Rosehall in Lairg.  Only a short drive away are various cafés, pubs, restaurants and shops can be found.  There is wildlife in abundance for you to watch both at Altass and the surrounding areas.
Altass lies between Lairg 11 miles and Bonar Bridge 8 miles.
Shin Falls – A lovely place all year round to see the Atlantic Salmon attempt to jump the falls.
Raven Rock – Just a few minutes away from us a beautiful not well-known walk and trail with viewing platforms to see the gorge and burn.
Carbisdale Castle forestry walks – Built in 1914 with tracks and paths, a small loch and waterfall, amazing mixture of trees, red deer and a choice of walks.
One mile from Altass is Rosehall a remote hamlet near the confluence of the River Cassley and the River Oykel.  It is the site of the main road bridge over the Cassley, which is just downstream from the spectacular Achness Waterfall, commonly known simply as the Cassley Falls.
Things to see and do in Altass and surrounding area
Pubs & Restaurants
Achness Hotel
Situated in the village of Rosehall, and only a short walk from the cottage. The public bar offers a wide menu of bar meals and daily specials for both lunch and dinner. The hotel restaurant offers a carvery type three-course meal during the fishing season to non-residents, but must be pre-booked. Open daily from 12-2pm for lunch and from 6 pm for evening meals, last orders at 8.30pm.
M&W at the Falls of Shin
Located on the River Shin, The Falls of Shin is one of Northern Scotland's wonders and most popular tourist attractions, where in the summer months' visitors can witness salmon leaping from the falls and roam the rocky banks of the River Shin. The visitor centre, previously owned by former Harrods owner Mohamed Al-Fayed, now offers visitors and locals true Scottish fayre.  Friday 5pm-9.30pm, Saturday 11am-9.30pm, Sunday 11am – 5pm
Crannag Bistro
Small  24 seat award-winning bistro located in Bonar Bridge, 12 miles away from the cottage. Run by a couple, Ian and Jenny Smith, they offer a menu of well prepared tasty unpretentious food using only local ingredients. The restaurant is open evenings only from 6 pm Tuesday to Saturdays, with last orders at 8.30pm.  Also, offer food themed nights during the year. Advisable to book.
The Pier
Lochside cafe/ restaurant in Lairg, 8 miles from the cottage. A wide-ranging menu of fresh food using local produce for both lunch and evening meals (Friday & Saturday only). Food available all day. Outdoor seating by the loch also available. Opening times : Tuesday- Thursday 10am-4pm, Friday & Saturday 10am-4pm and then 5.30pm-9pm , Sunday 10am-6pm Closed Mondays. Advisable to both at busy times and especially for evening meals.
Lungi
Luigi is a contemporary and friendly cafe/restaurant located in the coastal town of Dornoch, 26 miles from the cottage. Open daily for lunch and hot drinks and cake. Evenings are a little more formal with a relaxed casual atmosphere and offer a varying continental style menu with an emphasis on local seafood. Opening times: Open daily at 10 am. Dinner served between 6.45 – 9 pm during main summer months, and weekends and additional evenings during Spring and Autumn. Advisable to book as does get busy.
Lochinver Larder
Award-winning pie shop in Lochinver (40 minutes from the cottage) which offers a large choice of pies,  both sweet and savoury, made on the premises. In addition, they have a wide-ranging bistro type lunch menu. Can order the pies as a takeaway and even have them delivered to your home address as a reminder of your holiday. Food is served in the conservatory or the restaurant which overlooks the river and estuary. Open from 10am-5pm and then from 6 pm for evening meals.
Oykel Bridge Hotel
The hotel is a ten-minute drive from the cottage. The main hotel has a restaurant which offers a carvery style buffet meal in the evening, tables must be booked in advance as priority is given to fishermen staying at the hotel. Attached to the hotel is a small public bar which offers a  menu of both snack type pub meals and main meals for both lunch and evening meals. Hotel is only open during the main salmon fishing season.
Kylesku Hotel
Award winning hotel located overlooking the Loch Glenhu, 45 minutes away. This is a family run hotel, a former coaching inn that dates back to 1680. Serving fresh high-quality local ingredients specializing in seafood and shellfish. Recently refurbished it is popular with locals and tourists alike. Tables also available outside to enjoy the view and watch local wildlife like seals and otters. Lunch is served from 12-2.30m and evening meals from 6-9pm.
Beaches
Beaches can be found around all three coasts of Sutherland, with spectacular white sand and often completely deserted, even in the peak holiday season. Many of these beaches are award-winning and meet European Blue flag standards. On the east coast, there are the wide-open sands of Dornoch, Golspie and Embo. On the west coast are the more secluded beaches of Acmelvich and Clachtol, near Lochinver, and Oldmanshore near Kinlochbervie.
An 8 km hike across open moorland gives you the reward of the isolated beach at Sandwood Bay, which comes complete with a derelict haunted cottage and views of the Old Man of Storr. North coast beaches include Durness, Coldbackie, Farr, Strathy, and Melvich, many of these at the right time of the year can provide good conditions for surfing.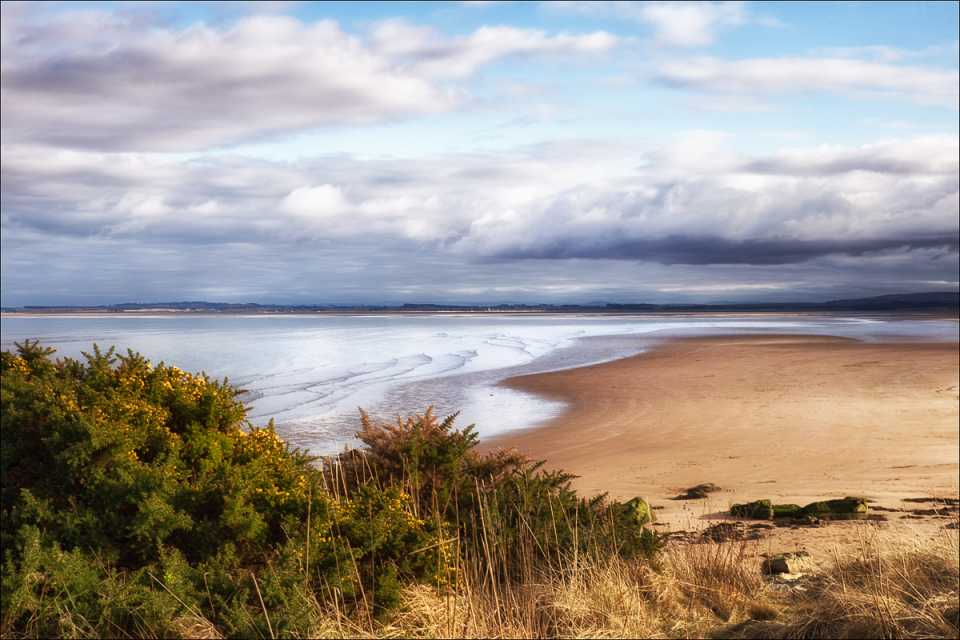 Birdwatching
There is a huge variety of bird species in the area including waders, ducks and geese, game birds, raptors and migratory species. For an impressive day trip, go to the bird sanctuary of Handa Island reached by boat from Tarbet on the west coast. Here you will see many thousands of seabirds including puffins, razorbills, skuas and guillemots-often at close quarters. The spectacular setting and dramatic cliff nest sites make this a full day visit, but take everything you need with you as there are no facilities (apart from a compost toilet) on the island. However, we do recommend the cafe by the jetty on the mainland!
Cycling
The quiet traffic-free roads around Sutherland make it an ideal base for touring by bicycle. Rosehall has its own mountain bike trails through the woods, and with the new Wild Cat Mountain bike trails now open in Dornoch and new trails under construction in Bonar Bridge, this area will soon become a Mecca for cyclists looking for an exciting and challenging trip.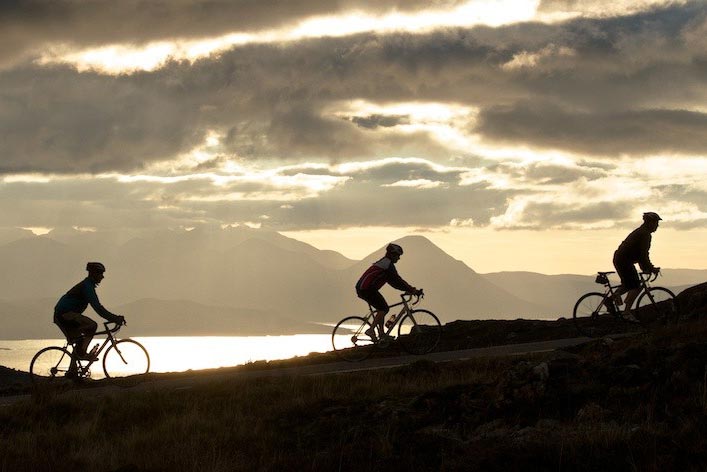 Photo by Wilderness Scotland / via wildernessscotland.com
Distilleries
We have three distilleries close to the cottage, all producing whisky with a unique and distinctive taste: Clynelish at Brora, Glenmorangie at Tain and Balblair at Edderton.
All of the distilleries have a visitor centre which offers tours, tasting sessions and whisky shop.
Fishing
Trout fishing is available on many rivers and hill lochs, with permits normally being available from local shops and hotels. Lairg Angling Club has fishing rights on Loch Shin and has boats available for hire. The Oykel, Cassley and Shin are famous salmon fishing rivers, with beats normally sold with accommodation alongside rivers. Sometimes day tickets are available – you need to check with local hotels.Sea fishing trips are available from Portmahomack, Ullapool, Lochinver and other west coast Fishing villages.
Golf
There are many golf courses in the area, most of which allow guest players. There are nine-hole courses at Bonar Bridge, Ullapool and Durness, which has a spectacular 4th hole that crosses over the cliffs of a sea inlet. There are 18-hole courses at Tain, Golspie, Brora and the world famous Royal Dornoch championship course.
Historical Sites
The Highlands is steeped in history from many generations; from brochs, standing stones, stone circles and sites of archaeological interest right up to evidence of the notorious Highland Clearances. Visit the clearance village at Rossal, and the famous church at Croick, where evicted tenants carved their names into the glass windows. Take a trip to the site of the famous English victory over the Scottish, at Colluden battlefield near Inverness.
Inverness
Inverness is the capital of the Highlands and one of the fastest growing cities in Europe. Just over an hour's drive from the cottage, you will find everything you need including shopping centres, supermarkets, sports facilities, cinemas, theatres, nightclubs and a huge range of bars and restaurants.
Walking
There is a wide range of opportunities for the more active visitor, from gentle strolls along wooded glens and riverbanks to long distance walks, Munro bagging and serious mountain climbing. Munros in the area are Ben Hope, Ben Kilbreck, and Ben More Assynt with several more to be found in the neighbouring area of Wester Ross. Mountains are Canisp, Cul More, Cul Beag, Ben Loyal, Foinaven Arkle, and the spectacular Suliven. For those who do not want the challenge of scaling these peaks on foot, the Cairngorm Mountain railway at Aviemore offers an effortless trip to the top of the mountains, with the chance to walk out on the slopes and admire the views. Rosehall has its own set of walking trails; as does the nearby town Lairg, Many of the areas of Forestry Commission land also have marked trails, a guide to these walks can be found at the cottage. The West Sutherland Walking Group has compiled several books of walks in the area, from 1-2 hours to all-day walks. Both these books are available to borrow at the cottage. Don't forget that deer stalking takes place in many areas of the Highlands during the latter part of the year, and care should be taken when walking off-road. Most estates will give you information about when and where not to go walking or climbing.
Wildlife
The Highlands has a wealth of wildlife, much of which cannot be seen anywhere else in the country. The nature of the countryside, low population density and the proximity of the road network to the animals' natural habitat means close-range sightings are very common. From Pine Martens in the woods (or our garden), Otters in lochs and coastal inlets, and Red, Sika and Roe Deer on the hills, to Dolphins and Porpoises on the coast, Scotland is a wildlife lover's haven. There are many organizations that offer wildlife trips, from Dolphin watching trips at Avoch and Inverness, to Pine Marten feeding at Rothemurcus Estate near Aviemore. The local highland rangers often run discovery sessions, wildlife walks and wildlife watching trips, especially during school holidays. Contact local Tourist Information Centres for details.